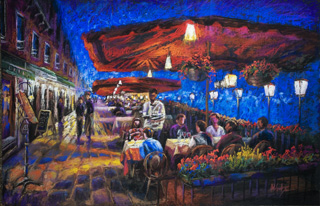 "Bon Appetito" ©2012 Niki Gulley
Pastel 24" x 36"


On my first trip to Europe, my husband wanted to take me to Venice since it was one of his favorite cities, and I fell in love with almost everything about it. The timeless quality created by living on canals free of cars, the history in the architecture and even the cobbled walkways, the beauty of the scenery and the magical quality created by the light to name just a few of my favorite things. I love how food and meals play such an important role in Italian culture – a time to slow down and enjoy friendships while savoring the locally grown cuisine and wines over the course of the evening. In this pastel I wanted to communicate all of those joyful feelings in addition to capturing the energy and romance of the city at night. Bon Appetito!
If you'd also like to experience the beauty, history and culture of Venice, join me and my husband / travel photographer, Scott Williams, for our Plein Air Painting and Photography Art Trek to Venice during Carnivalé, Feb. 2-9. Our unique Art Treks afford you the option to choose which aspects interest you, whether it is painting, photography, both or neither, thereby giving you an opportunity to make the most of your experience. Our trips are designed to hone your skills and expand your creativity, all while you further your artistic voice and immerse yourself in the region's culture and lifestyle. Non-participating partners are encouraged to join us for a reduced price, and we'll help with travel arrangements, tours, transportation, etc. while we're painting and photographing.
Plein Air Painting and Photography Workshop
Carnivalé - Venice, Italy
Taught by Niki Gulley and Scott Williams
Final Registration deadline: Nov. 18